News
Stay up to date and get informed on any of the latest developments with the campaign.
Thursday, January 27, 2022 4:23 PM
Dennis gets interviewed on the "Bunker Bob" show
"Bunker Bob" Steinhagen is a conservative fixture in Rockwall County with his own YouTube channel. Thank you Bob for interviewing candidates on your show to inform voters!
Watch the HD33 Interview HERE.
---
Thursday, January 27, 2022 10:26 AM
Meet and Greets this week!
Area supporters will be hosting meet and greet events where Dennis will be speaking. Join us! For details on the event in Rowlett, go here to RSVP. For details on the event in Rockwall, check here. Check the EVENTS tab for all upcoming opportunities to meet Dennis and get your questions answered.
---
Thursday, January 27, 2022 10:23 AM
Rockwall GOP Holds Candidate Forum - including HD33 State Representative
Blue Ribbon News livestreamed the event, where Congressional District 4, State Representative District 33, and Rockwall County Judge Candidates were featured. Did you miss it? You can watch the recording at the link in the article right here.
---
Wednesday, January 26, 2022 9:13 AM
Texas Horn interviews Dennis London
Read the interview Dennis had with Garrit Blizzard of Texas Horn here. The link takes you to the Facebook page, please follow the campaign on Facebook to hear more from Dennis directly.
---
Monday, January 10, 2022 11:49 AM
Signs are popping up!
That's right, signs are popping up all over Rockwall and Collin Counties.
Road signs and yard signs. If you don't have yours yet, let us know and we'll be sure to get one to you.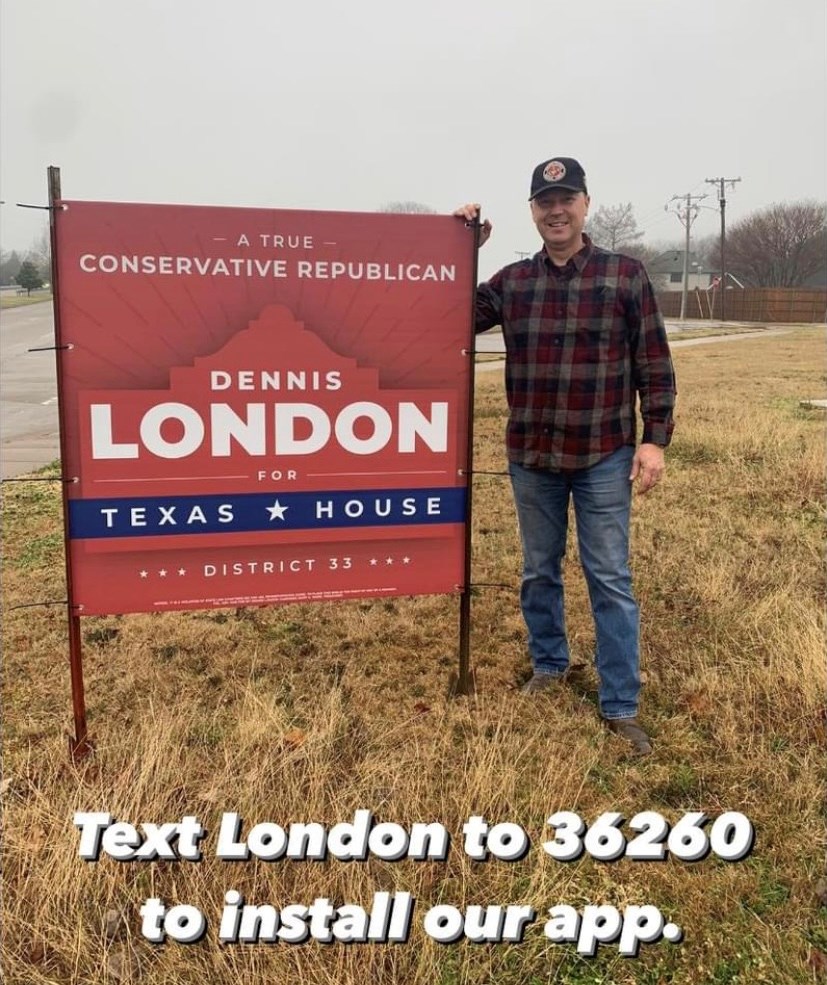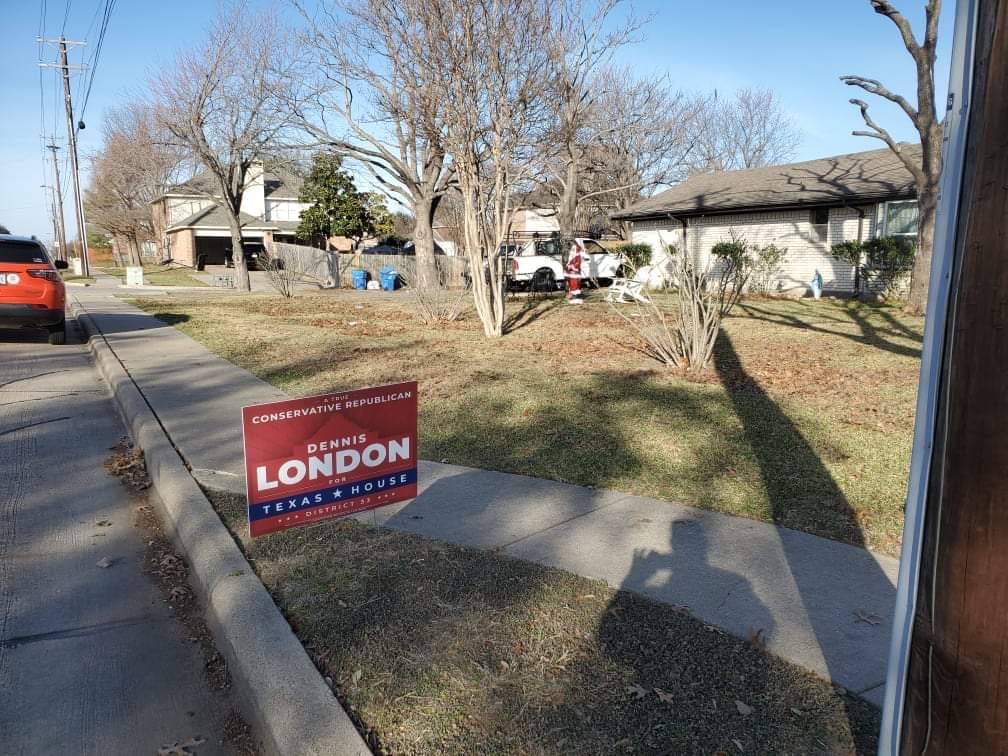 ---
Monday, January 10, 2022 11:28 AM
London Campaign launches Youtube Channel
People have been asking if Dennis London is going to have any videos where he goes over his platform, ideas, etc. Yes! We have finally got YouTube all setup, and videos will be coming very soon. You can subscribe now at: https://www.youtube.com/channel/UCz0W9cjM-0REix3bX_nPSww
Until there are 100 subscribers, we can't customize the name. So please be sure to subscribe so we can set it to something easier to describe and share.
Stay tuned more updates to come!
For God, Country, and Texas!

---
Wednesday, December 29, 2021 8:46 AM
Candidate Dennis London Makes His Pledge to Support Term Limits
London's Pledge to Support Term Limits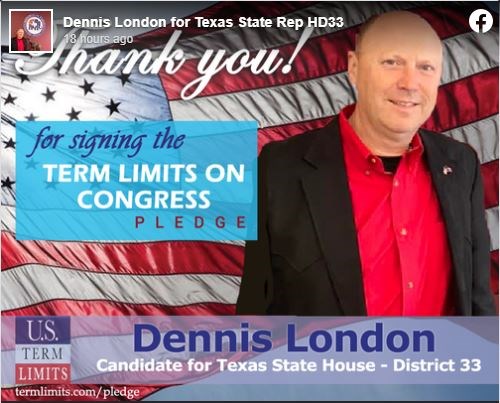 ---
Wednesday, December 8, 2021 6:29 PM
Two Republican veterans are challenging the incumbent for Texas House District 33.
---
Wednesday, December 8, 2021 4:35 PM
The lawsuit by the US DOJ has the potential to push back the 2022 Primary date.
---
Tuesday, December 7, 2021 4:30 PM
On Monday, December 6, 2021, Dennis officially filed his candidacy with the Republican Party of Texas down in Austin, Texas.
---
Thursday, November 18, 2021 1:31 PM
On Veteran's Day, 11/11/21, Dennis received his endorsement from The Five Star Plan!
Click the headline to read more.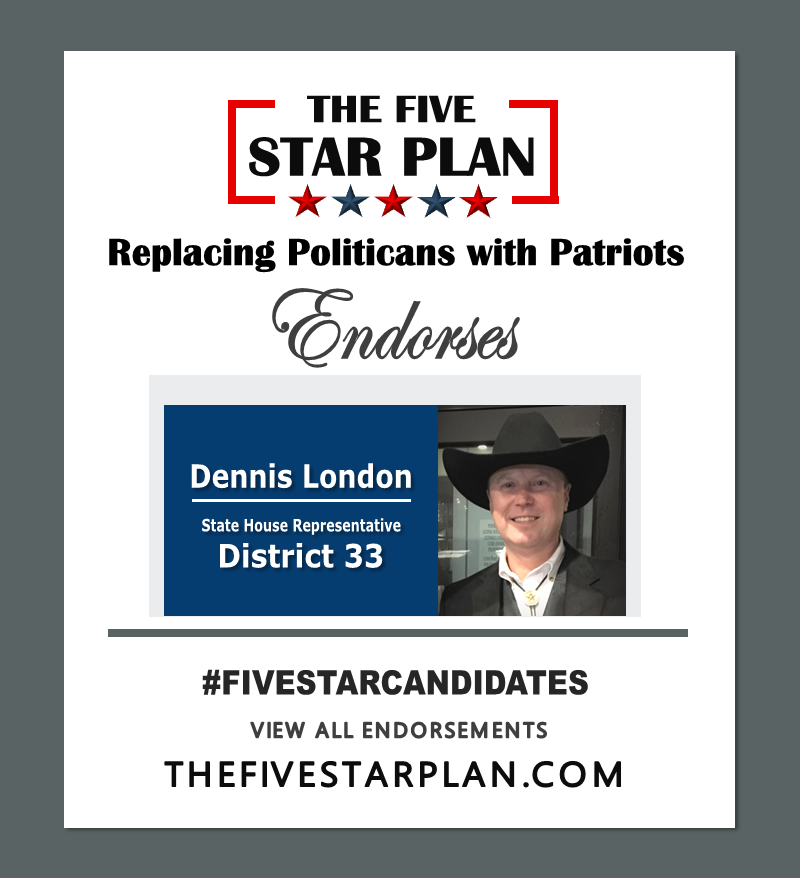 ---
Wednesday, November 3, 2021 4:12 PM
The campaign is now underway! Click the headline for more info.