News
Stay up to date with Texas House news and news about the campaign.
Thursday, March 9, 2023 3:28 PM
Former Californians may be aware of the 2019 laws passed wherein the State of California thumbed its nose at city and county zoning ordinances and local elected officials, and authorized property owners to construct Accessory Dwelling Units (ADUs) or "granny flats" on their properties – regardless of whether they were only zoned for single-family residential. The laws went even further to streamline permitting and further restrict local government so these ADUs could be built. An explosion of building followed.
In Texas, on February 24, 2023, HB 2789 was filed by the long-time establishment incumbent State Representative Justin Holland, and on March 1, 2023, an identical companion bill SB 1412 was filed in the Senate by Senator Bryan Hughes, with the identical companion bill speeding the process of these bills potentially becoming law later this year.
With these bills, these two Texas legislators are now thumbing their noses at local elected officials who want to control housing density in their communities, and virtually make "single family zoning" a thing of the past.
Click the headline above to get more details – and what YOU can do to stop it.
---
Saturday, March 4, 2023 3:25 PM
As you've heard in my last few news updates, Texas House Republicans (including our long-time establishment incumbent here in House District 33) have voted themselves 5 and 4-day weekends, weeks in a row.
That made me wonder - and you should be wondering too - Are they actually getting PAID when they're not at work? Are House Members collecting Per Diem when they take those 5-day weekends?
Click the headline to find out more......
---
Sunday, February 26, 2023 5:31 PM
My how the time flies! Can you believe the Texas Legislature just wrapped up the 7th week and the House still hasn't organized their committees? In my last post I said we simply can't accept the lame excuse of "we ran out of time". And with the 6th and 7th weeks being where they voted themselves back to back 5-day weekends while the committees aren't organized and ready to actually do any work...you know as well as I do that we're going to hear them say it.
But that isn't even the worst of it! Click the title above to read the full article to find out more.
---
Wednesday, February 22, 2023 10:00 AM
Every year, when key conservative legislation doesn't make it across the finish line, we voters hear a familiar refrain "We tried, but we just ran out of time".
Dennis London here to tell you why you shouldn't be buying that excuse this year. First, let's review some of the basic facts:
The legislature cannot vote on legislation for the first 60 days of the session, EXCEPT for the governor's emergency items and they can't vote on those items until he tells us what they are
Bills cannot come to the House floor for a vote until they are referred to (and come out of) a committee. The committees must be organized before they can do business, and though the Speaker has made Committee appointments, House committees have not yet done the administrative work they need to do before they can start doing the people's business
The Texas Constitution requires that if the House wants to adjourn for more than 3 days, it must first pass a resolution allowing them to do so
Now that you know the basics, let me tell you why we can't accept the "not enough time" excuse...
Click the title above for the full article
---
Thursday, February 9, 2023 12:26 PM
Hard to believe that yesterday (Feb 8) the Republican Speaker of the Texas House once again appointed Democrats as committee Chairs. Regardless that 81% of Republican voters stated they wanted to put an end to this moronic practice. Even Texas Democrats openly laugh at this because they know if and when the Democrats were to take back control of the Texas House they would never give any of that power to a Republican...ever!
But he (Dade Phelan) happily gave away 8 standing committee chairs and one select House committee chair for a total of 9 positions of power that control what legislation will and won't see the light of day. Oh, and let's not forget the 22 Democrats he appointed as Vice Chairs. Think about it, 25% of the committees are now chaired and 60% are vice chaired by Democrats...in a Republican led House!
The linked article from Texas Scorecard covers the assignments in greater detail. I highly encourage you to give it a read.
Question - Why is Texas the only state who does this? Think about it, Congress isn't even this stupid......Click the headline above to read more.
---
Wednesday, February 1, 2023 3:16 PM
It's the fourth week of the 88th Legislative Session, and no signs so far that our HD33 Incumbent plans to address any of the Legislative Priorities put forth by the delegates of the Republican Party of Texas last June. But what HAS he done so far? The answer might shock you.....click the headline above to read more.
---
Saturday, January 14, 2023 2:43 PM
Dennis London Announces Candidacy for March 2024 Republican Primary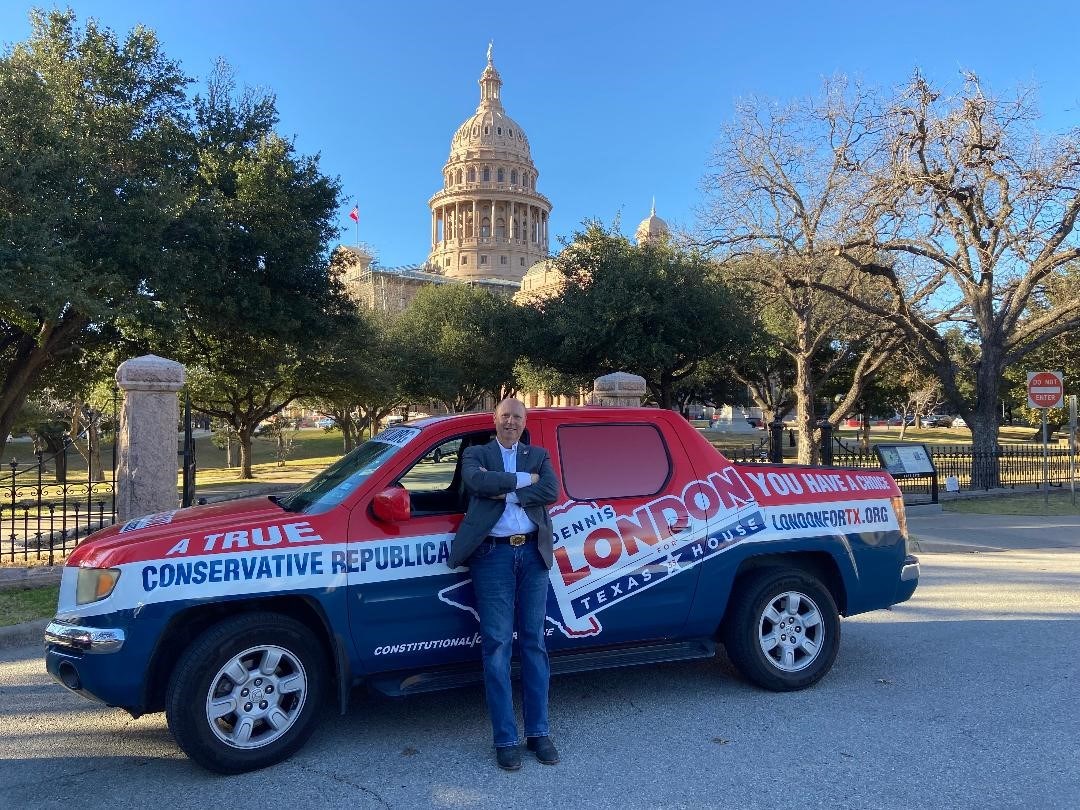 Austin, TX — January 14, 2023 — Standing in front of the Capitol last Thursday, Dennis London announced the launch of his campaign for State Representative in House District 33, encompassing Rockwall and parts of Collin County, for the March 2024 Primary.
Hundreds of Republicans from all over Texas traveled to Austin this week to remind the legislature that 81% of Republican primary voters disapproved of their Republican Speaker handing power to the Democrats by appointing them to powerful committee chair positions. Most arrived on Thursday, anticipating the house rules would be taken up that day, though the newly re-elected Speaker moved the debate on the calendar for Wednesday instead.
Wanting to witness the start of the session, London and his wife arrived in the capitol on Tuesday, so they were present in the gallery as the drama unfolded on Wednesday. They watched as every attempt to amend the House rules to end the practice of minority party committee chairmanships was shut down by not only Democrats but also Republicans who called points of order on the proposed amendments, effectively blocking any discussion or vote on the subject.
The practice of elected Republicans handing power to the opposition party makes no sense to London. "I ask you, if you were a football coach, would you head out before the game and ask your opponent's defensive coordinator to run your offensive line? That's exactly what our Speaker does when he lets Democrats chair committees. These chairs have the power to decide whether a bill ever makes it out of committee and onto the floor for a vote. If we want to move the ball down the field, and that's our Republican legislative priorities, why are we handing them our playbook?"
London also pointed out a contrast between the House Speaker election in Washington D.C., and the one just held in the Texas Capitol. In Washington, McCarthy had zero Democrat votes. In Austin, every Democrat voted for Speaker Phelan. "And why wouldn't they? They know he is going to share power with them" said London.
"If we want to understand why this is happening, we need to look in the mirror. We are the ones voting for the 'R' behind a name but not keeping track of how our elected officials represent us. We continue sending the same people back to Austin while expecting different results". The solution? "Be a candidate who vows to support Republican priorities – or support one who does. Primaries are the opportunity to draft new talent that will yield more wins for the team. In District 33, I am that candidate".
---
Saturday, January 14, 2023 2:38 PM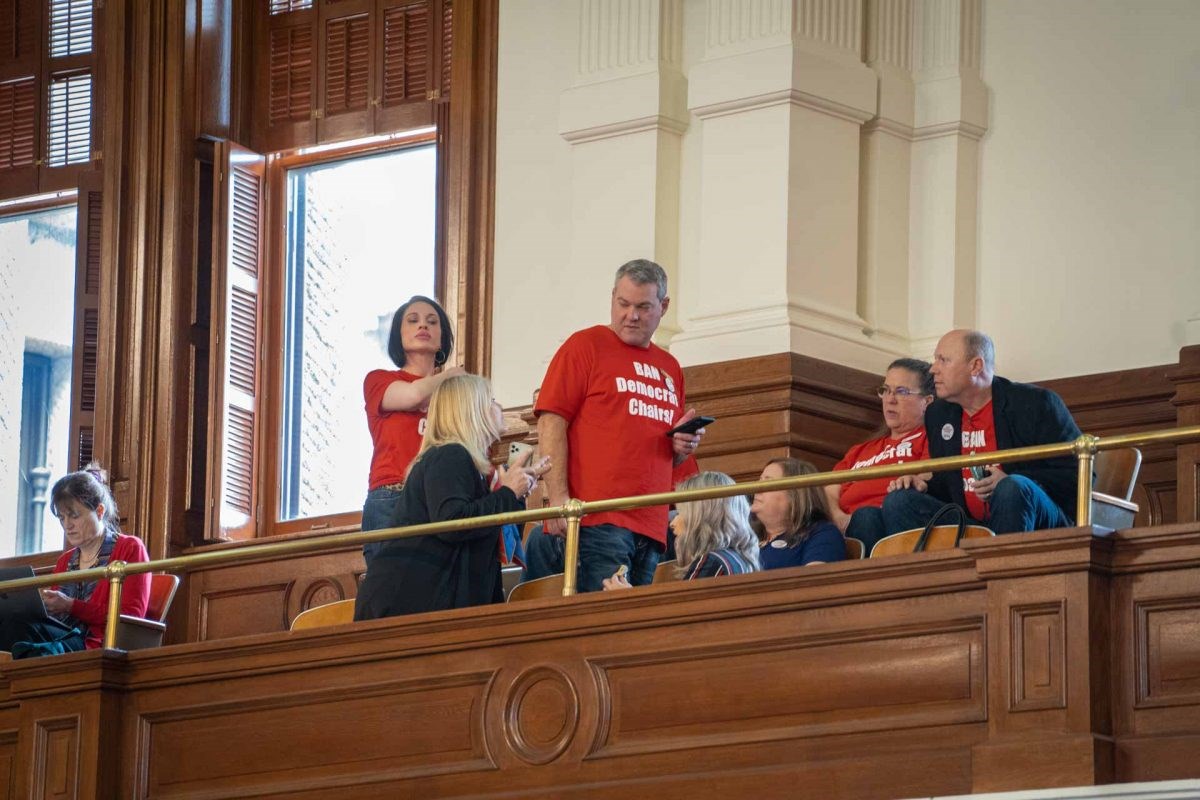 The Texan wrote this article about how the House killed the proposals to ban or restrict Democrat chairs during the first week of the 88th Legislative Session in Austin, and Dennis was included in the photo for the article (above, on the right). If you don't already subscribe to the Texan, it is highly worth your while for accurate reporting! Click the headline to view the story.
---
Saturday, January 14, 2023 2:33 PM
Dennis traveled to Austin for the start of the session. Click the link for a story about the amendment to House rules which added penalties for breaking quorum for the purposes of impeding House business. The addition of these penalties is a WIN for Republicans. And, read all the way to the end of the article for a quote from Dennis.
---
Wednesday, April 13, 2022 1:07 PM
What has your Texas Legislature done about School Choice?
A whole lot of nothing- that's what. Our politicians repeatedly emphasize their support for public schools (how many mailers did you get making that claim?). But ask yourself, when was the last time "one size" really DID "fit all"? Should the focus be about supporting schools? or about supporting the best outcome for STUDENTS?
Read more here about how our legislature failed to act on School Choice (a priority of the Republican Party of Texas) during the 2021 session.
---
Thursday, January 27, 2022 10:23 AM
Rockwall GOP Holds Candidate Forum - including HD33 State Representative
Blue Ribbon News livestreamed the event, where Congressional District 4, State Representative District 33, and Rockwall County Judge Candidates were featured. Did you miss it? You can watch the recording below! We've started it at the HD33 Candidates.