News
Stay up to date and get informed on any of the latest developments with the campaign.
Wednesday, April 13, 2022 1:07 PM
What has your Texas Legislature done about School Choice?
A whole lot of nothing- that's what. Our politicians repeatedly emphasize their support for public schools (how many mailers did you get making that claim?). But ask yourself, when was the last time "one size" really DID "fit all"? Should the focus be about supporting schools? or about supporting the best outcome for STUDENTS?
Read more here about how our legislature failed to act on School Choice (a priority of the Republican Party of Texas) during the 2021 session.
---
Thursday, March 3, 2022 2:08 PM
March 2, 2022 – Rockwall, Texas:
Dennis London, the USMC veteran and cybersecurity business owner who challenged 3-term incumbent Justin Holland for the District 33 State Representative position, conceded the race today.
Based on the Texas Secretary of State's current election returns, Mr. London received 25.85% of the vote, challenger Scott LaMarca received 4.93%, while Justin Holland received the majority of votes with 69.22%.
Mr. London placed the concession call this afternoon, after first hoping to catch Mr. Holland in person at the monthly "GOP Lunch Bunch", which is held the first Wednesday of every month.
CLICK THE HEADLINE ABOVE TO READ MORE
---
Thursday, March 3, 2022 1:16 PM
Election Results are in! Thank you to all who supported Dennis London!

Election results are in! The Texas Secretary of State website tally indicates the incumbent prevailed in the primary with 69.22% of the vote, with Dennis trailing at 25.85% of the vote, and the other challenger at 4.93%.
The London campaign is proud of the results we were able to achieve with the time and money at our disposal for this campaign, which was 3 months and $25,000. It is truly an achievement to pull over 25% of the vote. Dennis may have been outvoted by 3 to 1, but he was outspent by 20 to 1 – so the results were truly outstanding and we are very pleased with what the campaign was able to accomplish on a shoestring budget.
Let's break the race down a little further.
District 33 is located in both Rockwall and Collin Counties. The Collin County breakdown was:
London 31%
LaMarca 9%
Holland 60%.
But there's more to that story, because out of the 5,120 ballots cast, only 3,927 cast a vote for State Representative, leaving an "undervote" of 1,193 voters.
If you considered the "undervote" as a challenger, the numbers change:
London 23%
Undervote 23%
LaMarca 7%
Holland 45%
So in Collin County (where we spent a good deal of time campaigning), an amazing 23% of the voters just didn't know enough about the challengers, or have enough confidence in the incumbent and his 8 - 10 campaign mailers, to vote for anyone. The message the London campaign takes from this is that we need to do better next time at voter outreach and education.
In Rockwall County, where the undervote made up 3.3% of the total, looks like this:
London 23.5%
Undervote 3.3%
LaMarca 3.4%
Holland 69.6%.
All in all, the campaign is pleased with what we were able to accomplish and thankful for all the volunteers who gave of their talent, time, and treasure to give Dennis a shot at representing District 33. We believe he came closer than anyone expected him to, given the constraints of this campaign.
As he has promised his supporters, Dennis is not planning to quit because he didn't win this time. The campaign continues for next time!
Continue to connect with us here on this page, and at www.facebook.com/londonfortexas
---
Monday, February 14, 2022 6:39 AM
Early Voting! Poll greeters needed!
Early voting is upon us! If you are willing to hang out at one of the 4 Rockwall early voting locations (Rockwall Library, and City Hall in Heath, Fate, and Royse City) please sign up for a slot HERE and if you want to help on Election day (12 locations in Rockwall) you can do that RIGHT HERE . We have some folks out in Collin County already in Plano, Wylie, and Murphy locations but if you'd like to help out there, we can always use more volunteers! Email Shari at sharitxre@yahoo.com and we'll get you all set up.
After all the dust settles we look forward to a huge celebration to thank all of you who have donated your time, talent, treasure, to helping this campaign!
---
Thursday, January 27, 2022 4:23 PM
Dennis gets interviewed on the "Bunker Bob" show
"Bunker Bob" Steinhagen is a conservative fixture in Rockwall County with his own YouTube channel. Thank you Bob for interviewing candidates on your show to inform voters! Be sure to subscribe to his channel to get notified when videos of different races are posted.
---
Thursday, January 27, 2022 10:26 AM
Meet and Greets this week!
Area supporters will be hosting meet and greet events where Dennis will be speaking. Join us! For details on the event in Rowlett, go here to RSVP. For details on the event in Rockwall, check here. Check the EVENTS tab for all upcoming opportunities to meet Dennis and get your questions answered.
---
Thursday, January 27, 2022 10:23 AM
Rockwall GOP Holds Candidate Forum - including HD33 State Representative
Blue Ribbon News livestreamed the event, where Congressional District 4, State Representative District 33, and Rockwall County Judge Candidates were featured. Did you miss it? You can watch the recording below! We've started it at the HD33 Candidates.
---
Wednesday, January 26, 2022 9:13 AM
Texas Horn interviews Dennis London
Read the interview Dennis had with Garrit Blizzard of Texas Horn here. The link takes you to the Facebook page, please follow the campaign on Facebook to hear more from Dennis directly.
---
Monday, January 10, 2022 11:49 AM
Signs are popping up!
That's right, signs are popping up all over Rockwall and Collin Counties.
Road signs and yard signs. If you don't have yours yet, let us know and we'll be sure to get one to you.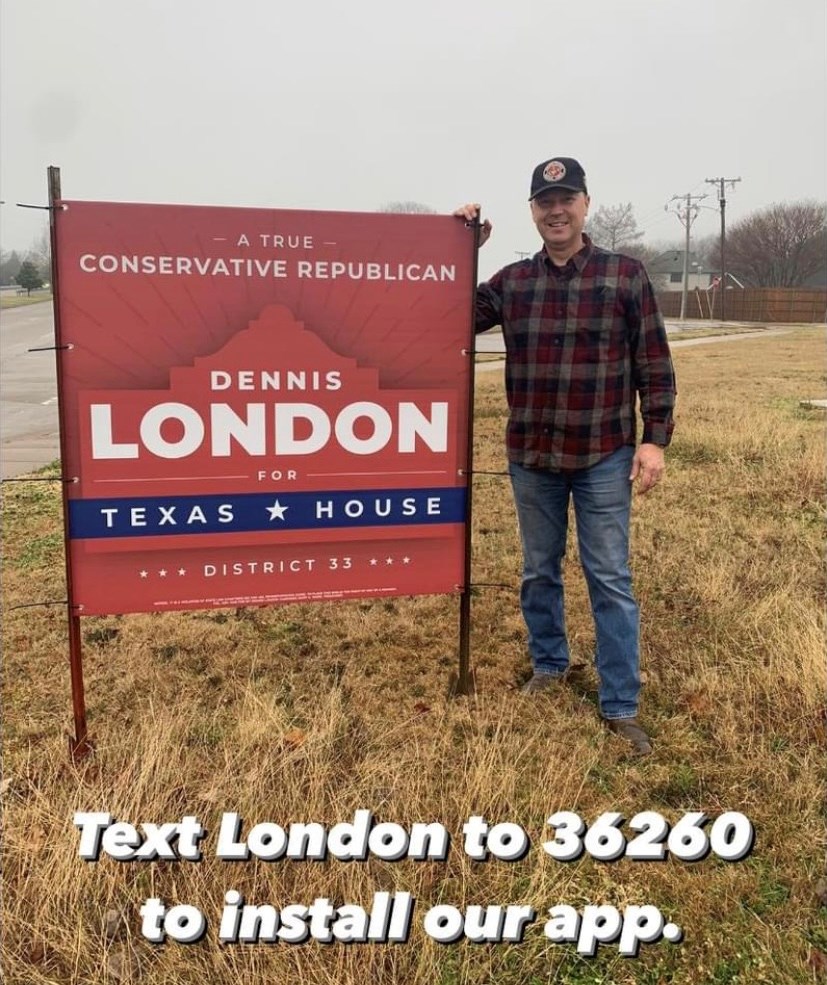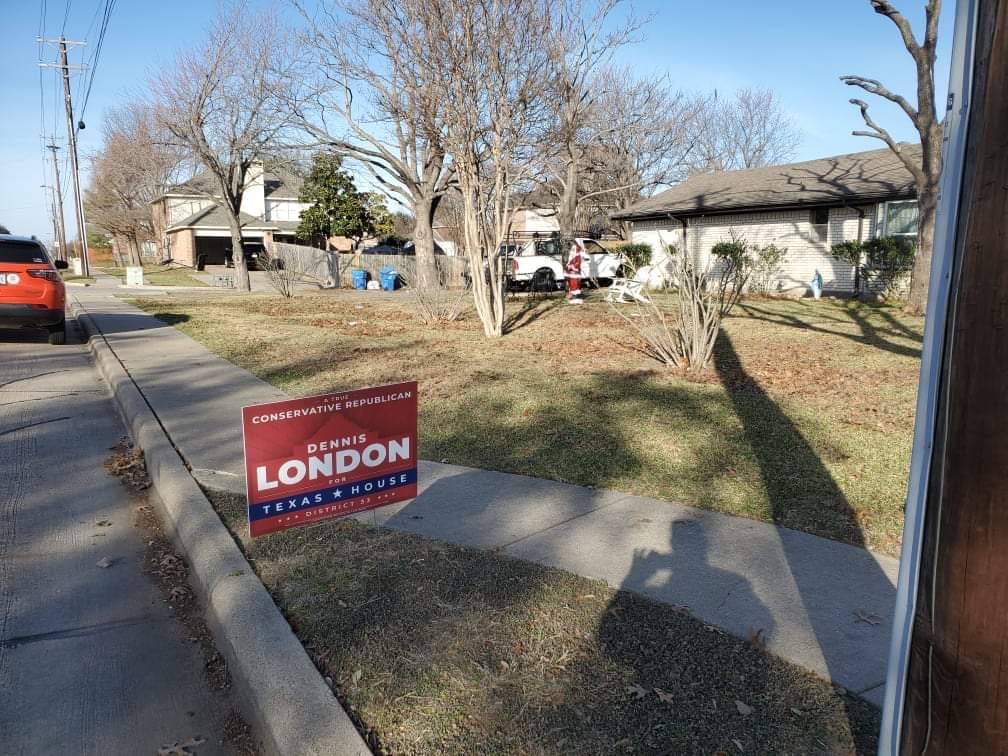 ---
Monday, January 10, 2022 11:28 AM
London Campaign launches Youtube Channel
People have been asking if Dennis London is going to have any videos where he goes over his platform, ideas, etc. Yes! We have finally got YouTube all setup, and videos will be coming very soon. You can subscribe now at: https://www.youtube.com/channel/UCz0W9cjM-0REix3bX_nPSww
Until there are 100 subscribers, we can't customize the name. So please be sure to subscribe so we can set it to something easier to describe and share.
Stay tuned more updates to come!
For God, Country, and Texas!

---
Wednesday, December 29, 2021 8:46 AM
Candidate Dennis London Makes His Pledge to Support Term Limits
London's Pledge to Support Term Limits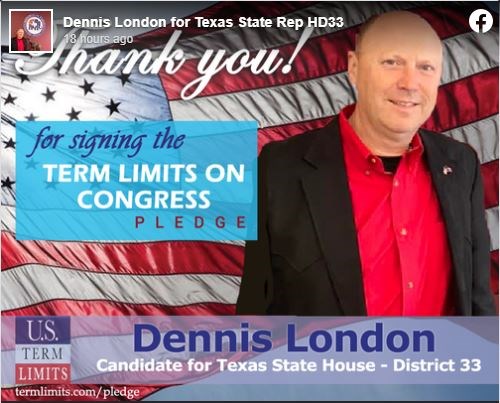 ---
Wednesday, December 8, 2021 6:29 PM
Two Republican veterans are challenging the incumbent for Texas House District 33.
---
Wednesday, December 8, 2021 4:35 PM
The lawsuit by the US DOJ has the potential to push back the 2022 Primary date.
---
Tuesday, December 7, 2021 4:30 PM
On Monday, December 6, 2021, Dennis officially filed his candidacy with the Republican Party of Texas down in Austin, Texas.
---
Thursday, November 18, 2021 1:31 PM
On Veteran's Day, 11/11/21, Dennis received his endorsement from The Five Star Plan!
Click the headline to read more.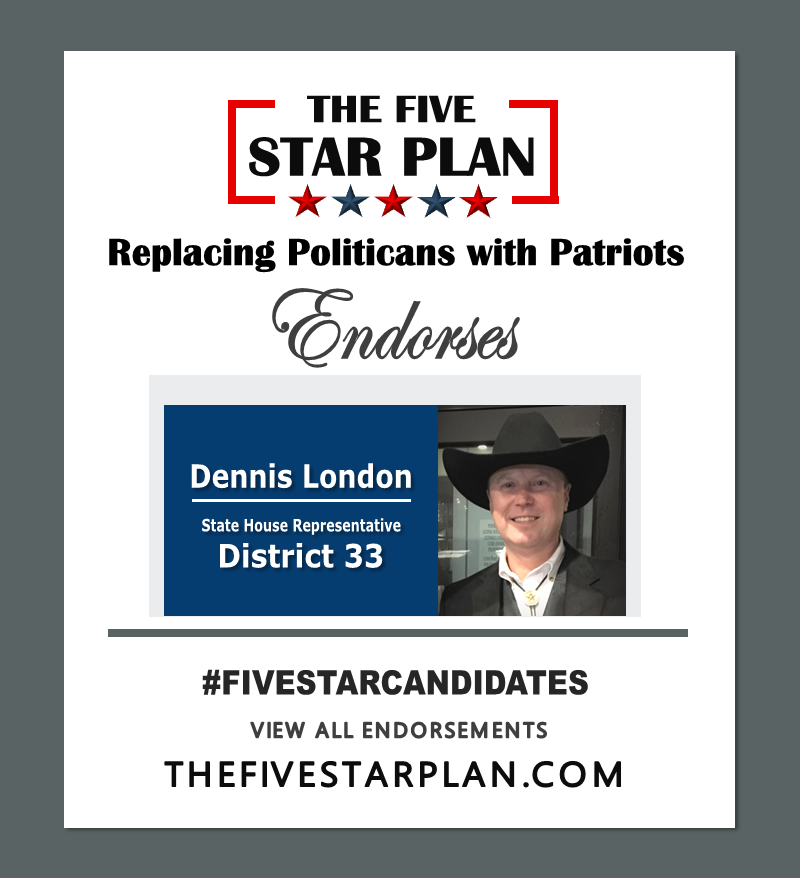 ---
Wednesday, November 3, 2021 4:12 PM
The campaign is now underway! Click the headline for more info.